Receiptify & 8 Other Awesome Music Apps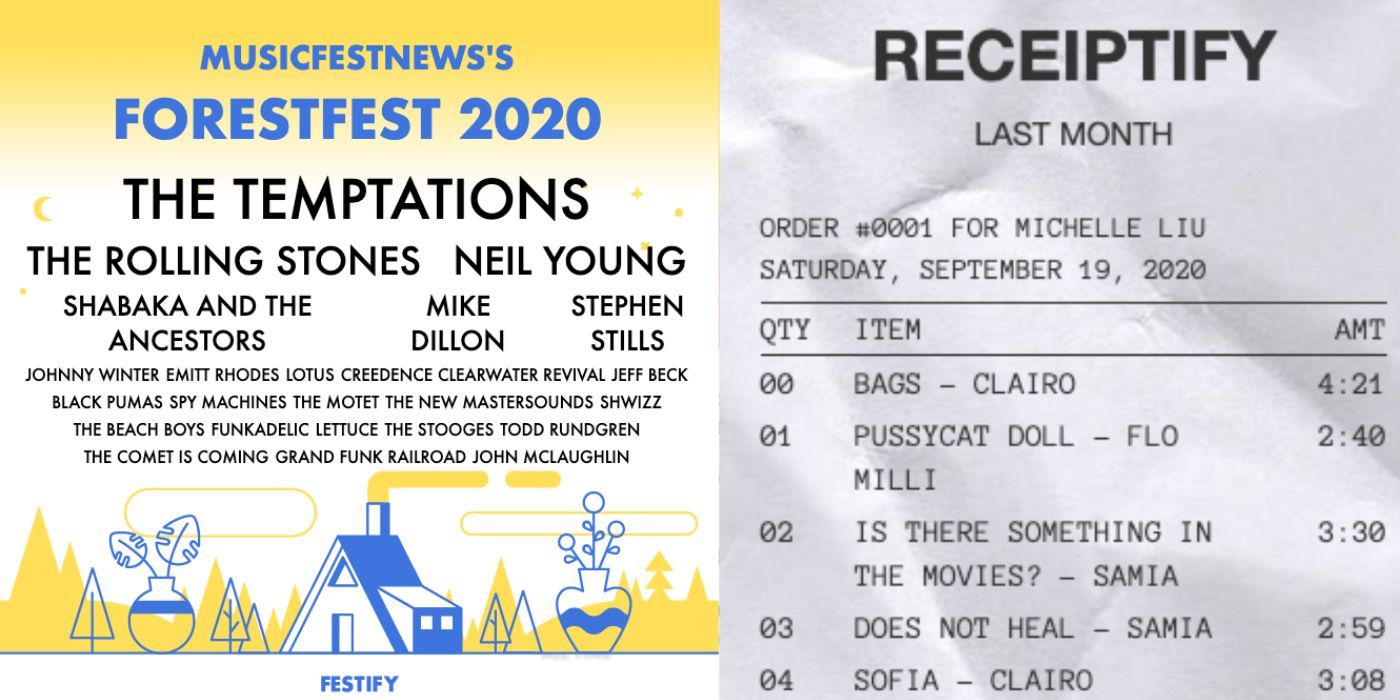 Receiptify has taken off on social media lately, thanks to thousands of people sharing their Spotify Receipts on Instagram and encouraging others to do the same. At the end of the month, users take to Instagram to share their Receipt of their monthly round up of music, with users recently sharing their July wrap up.
However, some are late to jump on the bandwagon, or simply haven't heard of it yet. If you love Receiptify and want more music apps like it, or you've never heard of it before and you're interested in what the app actually does, there are plenty of great music apps to better understand and explore your music taste.
Receiptify
Receiptify is a tool that displays your top 10 most played songs from the last month, 6 months and/or all time, in a receipt looking format. It took off in recent months thanks to the trend that encouraged others to share their 'Receiptify.'
RELATED: 10 Best Meditation Apps for iPhones
It currently works for Spotify, Last.fm and Apple Music, and according to the website, the developer is looking to try and support as many services as possible.
PokePlaylist
Calling all Pokémon fans, you can finally see your top Spotify artists and stats displayed as Pokémon cards. It generates your top three artists from Spotify, and creates Pokémon cards out of them, with statistics about popularity, followers, and top songs.
Users have been comparing their cards with friends, much like real Pokémon cards, to see who has the lowest popularity score. Users can also generate cards for their top artists of all time, the last six months, and the last month.
Obscurify
Obscurify was designed to help users better understand their own music taste. It takes users previous listening history, genres, and general music tastes and recommends songs they may not have heard before that they might like. It creates playlists of these songs and adds them to users' Spotify libraries.
It also tells users how obscure their music taste is, making it exciting to compare with friends. Users are given an Obscurity rating based on their top tracks.
Festify
As suggested by the name, Festify takes users' favorite artists and turns them into a musical festival line up visual. It works with Spotify and takes top artists and converts the data into a fun visual print that resembles a music festival line up.
RELATED: 10 Best Free Movie Apps
Listeners have been sharing their Festify visual and talking about their dream festival line up, with some varying results. It shows the full spectrum of listening tastes, making for some interesting line ups and results.
Zodiac Affinity
Zodiac Affinity, as the name suggests, tells you which star sign your most played songs and artists align with. It tells you whether your listening tastes match your Zodiac sign, or which Zodiac sign(s) speak to you the most.
It also creates playlists for you based on the sign(s) you pick. Users have been using this feature to make playlists for them and their friends, using their star signs to create the perfect combination that's bound to please every one.
MusicScape
Have you wondered what your landscape would look like, based on your recent Spotify listens? Look no further, MusicScape generates minimalistic landscapes based on recent activity. It uses pastel colors, simple designs and calming graphics to generate a landscape unique to you, based on your listens.
RELATED: 10 Best New Dating Apps
The landscape also changes depending on the genres users listen to, creating landscapes that reflect these genres, with mountains and lakes to reflect calmer music, and brighter, upbeat colors to reflect energetic music.
How Bad Is Your Streaming Music?
AI brings to mind things like Tony Stark's Jarvis, or scarier thoughts like Ultron, but How Bad Is Your Streaming Music is nothing more than a judgy, funny, music-loving AI that judges users tastes based on jokes from the database, and insight from the artist.
Working with Spotify and Apple Music, users are able to input their data to get judged and criticised by this AI, who gives unsolicited opinions about the users music history. The AI also creates playlists with equally as judgy names, such as "Your Worst Songs in 2020" and "You're Trying Too Hard."
Whisperify
Advertising themselves as an interactive way to learn about users favourite songs, Whisperify chooses users' top 10 songs and plays five-second snippets, in which the user has to guess which song is being played. It also provides detailed stats about the audio of songs, and compares listening habits between friends and other listeners around the world.
It's a hit at parties, road trips, and any get together with friends. The software allows users to create groups and quizzes with friends to see who can get the highest score.
Kaleidosync
Creating beautiful visuals, Kaleidosync makes music visualisations using colors and designs linked with the artist or song currently playing. According to their website, its a growing collection of 23 customisable WebGL sketches, with more being added weekly.
It works as a visualiser for those who need a visual stimulation as well as an audio one, creating beautiful on screen geometric and brightly colored patterns that work in time to the song. Users love it for its unique visuals and eye catching designs.
NEXT: Top 10 Movie Musicals Of The 2020s (So Far), According to Rotten Tomatoes
Tags :
Entertainment