What Went Wrong With Waterworld? Why It Cost So Much & Was A Failure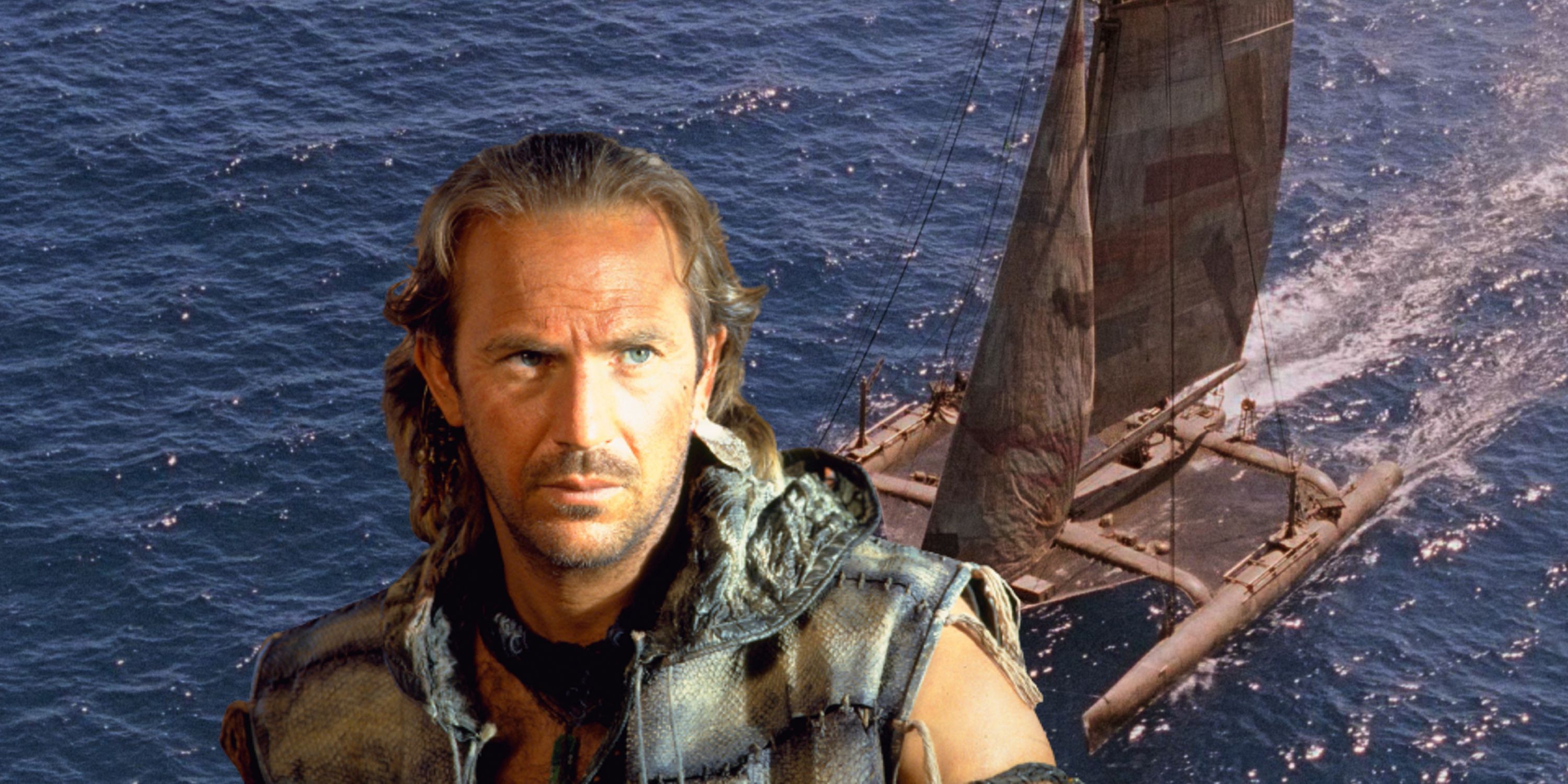 Waterworld was a box office failure upon its release back in 1995, but what went wrong with Kevin Costner's costly aquatic flop — and why? Costner was one of Hollywood's A-List stars back in the early 1990s. He had had a string of hits that had managed to please both critics and audiences alike, including JFK, The Bodyguard, and the Oscar-winning Dances With Wolves, which he also directed. Waterworld had intricate world-building aspects, but the movie failed.
Costner and director Kevin Reynolds were frequent collaborators, and after Robin Hood: Prince of Thieves were looking for their next project. They found it in the form of Waterworld, an action-adventure story that was heavily influenced by the Mad Max movies. Set in an apocalyptic future where every continent on Earth is underwater due to melting polar ice caps, the remnants of humanity now live in floating communities besieged by pirates. Costner plays The Mariner, a lone drifter who reluctantly helps a girl and her guardian who may hold the secret to the mythical "Dryland."
Related: Mad Max: How Old Max Is In Every Movie
Flying high on their previous successes, the creative collaborators wanted the film to be as realistic as possible, with a scale of epic proportions. Their clout within Hollywood was at an all-time high, and Universal Studios were sold on their vision. However, the production was not plain sailing and almost ended their careers and friendship. Here's why Waterworld failed, and whether the Dan Trachtenberg-led TV remake can save the cult classic.
What Went Wrong With Waterworld's Production
One reason Waterworld failed was due to massive problems during production. Before the film began, Steven Spielberg had warned Reynolds and Coster not to film on open water. Spielberg had a production nightmare filming Jaws 20 years earlier, so he passed that advice along. However, it wasn't heeded, and the pair continued to follow their vision of a gritty and realistic film, feeling that an ocean shoot was essential to achieve it. However, Spielberg's warning proved prophetic as hurricanes destroyed the atoll set three weeks into filming. The resultant delays and the difficulties of filming on the ocean led to production overrunning and the budget increasing.
Numerous accidents and near misses also plagued Waterworld. A stunt coordinator came up too quickly from a dive and nearly died from the bends. Jeanne Tripplehorn and child actresses Tina Majorino nearly drowned when they were thrown from The Mariner's boat when the bowsprit snapped (having to be saved by a team of 12 divers). Even star Kevin Costner had to be recused when his boat drifted off to sea with him lashed to the mast.
Tensions ran high as Costner was going through a divorce at the time, and this, along with the pressure of the production, spilled over into his partnership with Reynolds. They had endless heated battles during Waterworld over creative decisions. Reynolds left the project, leaving Costner (an Oscar-winning director in his own right for Dances With Wolves) to finish the rest of the picture. Notwithstanding this, Reynolds is still credited as the sole director for the finished film.
Related: Kevin Costner Roles: Where You Recognise The Yellowstone Star
Why Waterworld Cost So Much
Originally, Universal studios had allowed $65 million for the film's budget, increasing to a then-mammoth $100 million as the vision for Waterworld and the obsession with realism increased. The costs of rebuilding sets, and other production delays, turned what should have been a scheduled 96-day shoot into a massive 157 days. Commensurately, the budget increased again to $135 million before finally settling on a record-breaking $175 million when the movie was finished. To put that into context, Independence Day was made the following year for the price of $75 million.
$175 million was unheard of back in the mid-'90s for an original film with no franchise attachments. Adjusted for inflation, it would be almost $300 million today. Such a price tag for essentially "Mad Max on water" (the total cost of George Miller's Mad Max trilogy up to that time was less than $15 million combined), and its tumultuous production, caused a media stir. Before the film was even released, the press dubbed the film "Fishtar" and "Kevin's Gate," referencing notable box office bombs Ishtar and Heaven's Gate.
Why Waterworld Failed At The Box Office (Even Though It Shouldn't Have)
Once Waterworld was released reviews were mixed. There was some praise from critics for the action scenes, and the verisimilitude of filming at sea. However, the biggest criticisms were regarding its slow pace, uninteresting characters, and Waterworld's (deliberate) derivative ties to Mad Max. Ultimately, it was labeled an ambitious misfire. Nevertheless, it opened at no. 1 at the box office and made $88 million domestically, which (in a vacuum) was not a gross to be ashamed of in the mid-90s. It also accumulated a further $176 million at the international box office, giving a worldwide total of $264 million.
Its box office would not have been disastrous for a blockbuster like Waterworld, had its costs not been so astronomically high (a further $65 million was spent on marketing and distribution). While its box office total managed to exceed its total spent, the standard threshold for a film to break even is normally twice its budget. However, this can rise to three times its budget, depending on the percentage taken between a theater and the studio, which varies from territory to territory. Joining fellow 1995 sea-faring failure Cutthroat Island, Waterworld was considered a box office bomb.
Related: The New Daughter Is Kevin Costner's Only Horror Movie
To add insult to injury, Waterworld garnered four Golden Raspberry nominations, including Worst Picture, Worst Actor, and Worst Director, with Dennis Hopper winning Worst Supporting Actor. Fortunately for the film, Showgirls took the spotlight off it that same year with 13 nominations and 7 wins. Along with 1997's The Postman, Waterworld is generally considered the film that sank Kevin Costner's career as an A-list movie star and leading man.
How Waterworld Eventually Made A Profit
The theatrical box office of a film is only one avenue for a movie to earn money. Home video rentals and sales and TV rights eventually pushed the film into the black, even making a modest profit over several years. Universal is now developing a Waterworld TV show from Dan Trachtenberg to continue the story. The same year as the movie's release, a Waterworld stunt show attraction opened in 1995 at Universal Studios Hollywood and other parks around the world, continuing to entertain crowds with its impressive stunts and set pieces for over 25 years.
The hubris in taking such a gargantuan risk didn't pay off at the time. However, Costner and Reynolds' quest for realism, and capturing as much as possible in-camera, has resulted in Waterworld achieving a timeless quality. Whereas other blockbusters in the mid-'90s are filled with early CGI effects that range from merely passable to painfully dated, Waterworld holds up remarkably well. Its action scenes are well choreographed and shot, and James Newton Howard's score adds a swashbuckling quality to the adventure. An extended Waterworld "Ulysses Cut" that runs almost three hours gives more depth to the story and characters, further adding to its cult status as a film that deserves a second look.
Why Waterworld Might Actually Make More Sense As A Remake
Waterworld is currently getting a television series remake, with director Dan Trachtenberg (10 Cloverfield Lane) at the helm. The planned series will presumably release on Peacock, though a release date has not been slated. As of now, the series is in pre-production, and no actors have been announced as attached to the project. Also on the project is the previous Waterworld producer John Davis (The Blacklist). The series is set 20 years in the future and follows the main cast from its source material.
Related: Dune 2 Can Fix One Key Paul Mistake From The Book
The Waterworld TV series could work a lot better than the movie, as the deepest criticisms of the film could be the TV show's greatest assets. Waterworld was bad because of its slow pace, the result of excessive world-building and heaving ambition it couldn't match (hence the spiraling budget). While this leaves a film overstuffed, it works well for the television format, and the series could build up a loyal fanbase off the back of that aspect alone. Another criticism is that the technology wasn't there to replicate the effect that the creators wanted. CGI and special effects have grown astronomically since the 90s, which would bring the creators' visions to fruition. Most remakes and reboots end up as watered-down versions of their predecessors. But like with Dune's mistakes, the Waterworld TV series has a chance to fix its past transgressions.
Waterworld hasn't solely had disastrous consequences. Reynolds and Costner would eventually make amends years later, reuniting for the TV series Hatfields & McCoys in 2012. Costner has also found renewed success as a supporting actor in various films and the lead in the hit TV show, Yellowstone. Overall, while Waterworld has gone down in the history of cinema as a cautionary tale of creatives flying too close to the sun, its reputation for being a complete failure is only a half-truth.
Next: Kevin Costner's The New Daughter's Ending Explained
Doctor Strange 2 Fails Iron Man In 3 Big Ways
About The Author
Tags :
Entertainment