Witcher 3 Side Quests You Shouldn't Miss For The Best Story Experience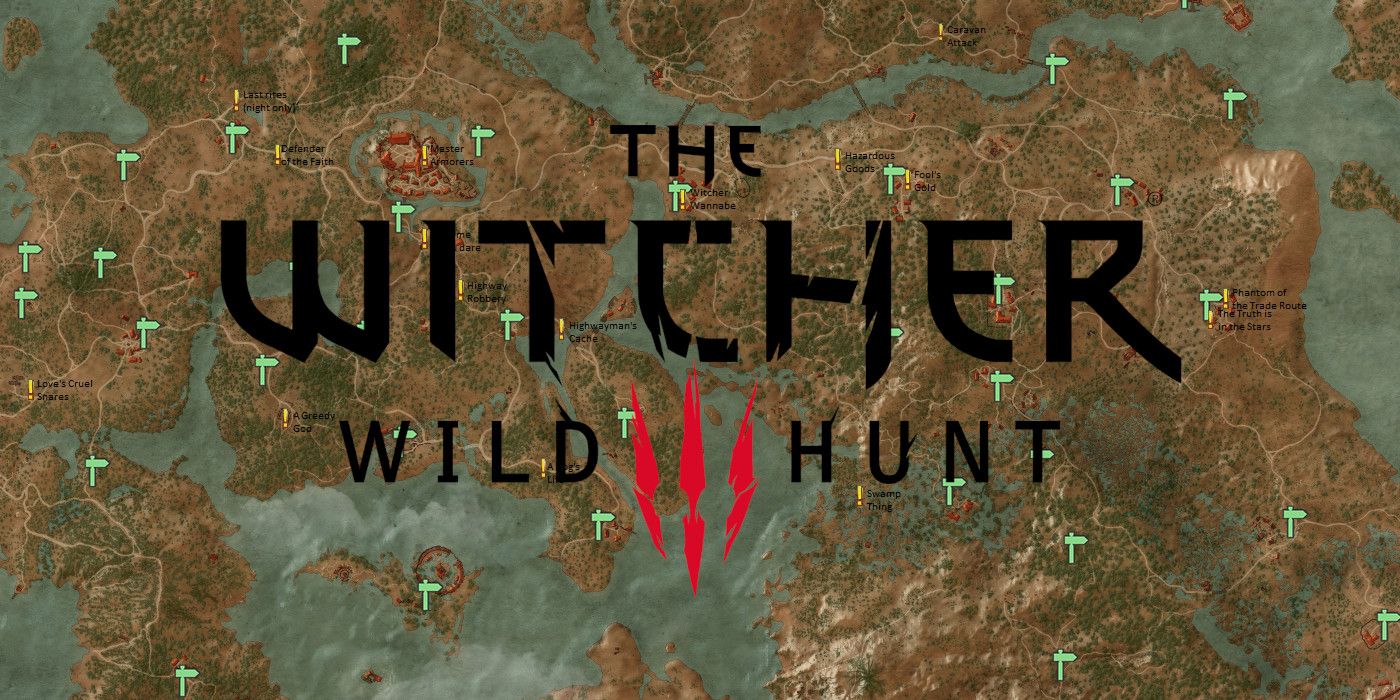 The Witcher 3: Wild Hunt has an incredibly immersive main story, but there are side quests that players should not miss. The Witcher 3's main storyline is easy to get sucked into and players can easily forget about all of the side quests that can also be played in the game. With a large area to explore while on the hunt for Ciri, players can get too focused on the main task at hand instead of discovering more Witcher 3 secrets and stories for themselves.
The Witcher 3: Wild Hunt was released in May 2015 with two expansions, Hearts of Stone and Blood and Wine, released in October 2015 and May 2016, respectively. In the game, players take on the role of almost 100-year-old Geralt of Rivia, a witcher who hunts and slays monsters and is searching for his adopted daughter Ciri, who is on the run from the Wild Hunt. Although the main story is sprawling, there are also myriad side quests in Witcher 3 that players won't want to miss.
Related: Witcher 3 Side Quests You Can Just Ignore
Side quests in The Witcher 3: Wild Hunt can give the player a new perspective into Geralt's life and can expand his relationship with others. While many players already know the joys of Gwent and the side quests related, there are other quests that help the player understand a bit more about the type of person Geralt is and the area that he is in. With political turmoil, monsters, sorceresses, and even godlings about, and regular townsfolk just trying to survive, the side quests in The Witcher 3 give the game a whole new level of immersion.
 The Witcher 3 Side Quest: A Towerful of Mice Shouldn't Be Missed
Early on in the main storyline of The Witcher 3: Wild Hunt, Geralt will meet the beautiful and romanceable Keira Metz, a sorceress who seems to have fallen on some hard times and is living in Velen. She asks Geralt to assist her with something and to meet at her home. Geralt learns from Keira that Fyke Island is cursed and full of rats, and Keira needs help lifting the curse.
"A Towerful of Mice" in The Witcher 3 is the start of a line of quests involving Geralt and Keira. When the player makes the right choices, these quests can lead to Geralt romancing Keira and to Keira Metz helping in the battle with the Wild Hunt at Kaer Morhen. The quest gives players a look into how the decisions they make as Geralt can affect the future in the game and also gives players a bit of practice when it comes to romance in the world of The Witcher 3.
The Witcher 3 Side Quest: The Last Wish Gives More Depth To Yennifer
Speaking of romance in The Witcher 3: Wild Hunt, one of Geralt's possible romantic companions is Yennifer of Vengerberg. When Yennifer and Geralt first met, Geralt used a Djinn to bind their fates together. Now Yennifer wants to find another Djinn and reverse the effects of this wish to see if her relationship with Geralt is because of the Djinn or not.
Related: Witcher 3 Characters That Could Appear In Witcher 4
Players looking to romance Yennifer in Witcher 3 definitely need to take on this quest, and even if they don't plan on romancing her, this still gives some insight into Geralt's past and his relationship with the sorceress. Players also get to see another side of Yennifer when she is with Geralt alone. "The Last Wish" is another side quest that shapes the future of the end game, but players should be warned, depending on their choices in this quest and another, Geralt's future could end up lonely.
The Witcher 3 Side Quest: The Cave Of Dreams Reveals More About Geralt
"The Cave of Dreams" is a fun and insightful side quest in Witcher 3 that gives players a look into the mind of Geralt of Rivia and of other warriors of Skellige. It's a stunning, if somewhat creepy, quest that will leave players entranced. While the quest reward isn't anything incredible, the experience alone is worth the journey.
When in Skellige, after the quest "The King Is Dead – Long Live The King," Geralt can encounter Blueboy Lugos' ship near the mouth of a cave. After getting more information from Blueboy himself, Geralt and three others set off into the Cave of Dreams, where men face their greatest fears, after, of course, ingesting some hallucinogenic herbs. After dispatching each man's greatest fear, the player gets to see Geralt's own biggest fear.
The Witcher 3 Side Quest: A Deadly Plot Adds Humor To The Story
The Witcher 3: Wild Hunt is a game full of serious situations and graphic violence. Players fight monsters and humans, make difficult choices, and ultimately end up with one of many endings to The Witcher 3. The side quest "A Deadly Plot" adds a bit of humor to all of the intensity. While the main theme of this quest, which is tied to a few others, is the serious subject of the assassination of King Radovid, this specific quest has Geralt tracking down a spy in an unexpected locale.
Related: The Witcher 3: Every Kingdom Ruler's Ending (& How To Get Them)
After tracking down a dilapidated wagon on the side of the road, Geralt runs into a large rock troll, Rogg, standing beside a large pile of shoes. What follows is Geralt discovering the spy, Thaler, and having a conversation that is sprinkled with creative cussing about a man making shoes for trolls and expanding their vocabulary. The entire side quest is entertaining and humorous in an otherwise dark and serious game and should definitely not be missed.
The Witcher 3 Side Quest: Equine Phantoms Gives More Time With Roach
For many Witcher 3 players, Roach, and the related Roach bugs and memes that come along with her, is one of the most loved characters in the game. Roach can appear at the player's side in an instant even if she is oceans away, can get stuck on the smallest of obstacles, and often ends up on rooftops. "Equine Phantoms" gives players a chance to discuss these feats with Roach and hear her side of the story. When Geralt has drunk some suspicious tea, he discovers he and Roach can talk to one another, and Roach proceeds to help Geralt solve the mystery of a hermit being haunted by a demon. It is a lighthearted quest that shows the love between a horse and its master and answers some of the mysteries of Roach.
The Witcher 3 Side Quest: Till Death Do You Part
Another amusing side quest from The Witcher 3: Wild Hunt's Blood and Wine, "Till Death Do You Part" starts off as a typical Witcher contract where a citizen is hearing noises coming from a local cemetery at night, but not all is as it seems. Once in the catacombs, Geralt witnesses two once-married spirits bickering like the old married couple that they once were. This quest is short but gives players a chance to solve a mystery without quite as much violence as usual and gives another perspective to the phrase "happily ever after."
The Witcher 3: Wild Hunt is a stunning and incredibly immersive game with an incredible narrative as well. The side quests in the game add much more depth and allow players to get a different look at the life of a Witcher and those who encounter him. With CDPR announcing recently that it is working on a fourth Witcher title, there are hopes that it will be as filled with fun and entertaining side quests as the current game.
Next: If You've Only Watched The Witcher, You Need To Play Witcher 3
90 Day Fiancé: Libby's Dad Chuck Potthast Shares Major Update About Cancer
About The Author
Tags :
Entertainment